MPavilion construction team in Mumbai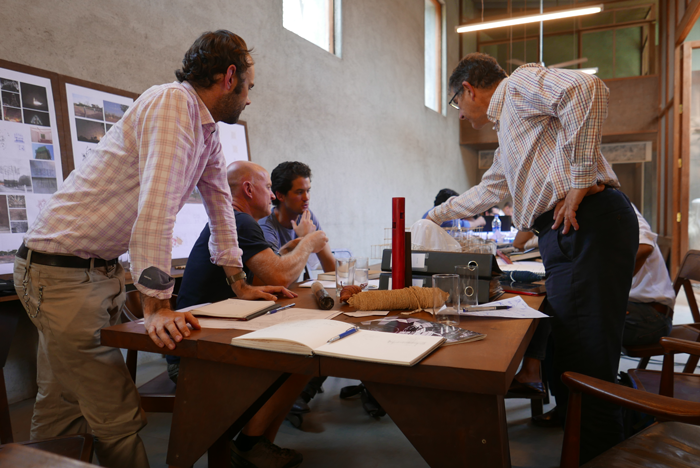 Kane Constructions, the highly skilled build team behind the MPavilion, recently travelled to Mumbai, India, to meet with Bijoy Jain and Studio Mumbai. They worked closely with Bijoy and the studio team, exploring and learning all about its creative process, inspirations and local building techniques for the design of MPavilion 2016. Project director Tony Isaacson wrote us a diary of Kane's time with Studio Mumbai. Read below!
---
The purpose of our visit was to participate in design development and construction planning, and to help us understand Studio Mumbai's design approach and intent for MPavilion. Even with hundreds of emails, Skype calls and WhatsApp messages, it's not easy getting a feel for what our collaborators are wanting, feeling and so on.  Nothing beats face-to-face collaboration and the direct sharing of ideas and solving problems over wonderful Indian food.
Four of us from Kane Constructions travelled. I am the project director. Sam Birdseye is our project manager. Shane Harders is our engineer and Robert Irwin, who is going to be important helping us build it this year, is from Element Rigging. None of our group had been to Mumbai before so it was quite an adventure and very interesting—it was over too quick!
Arriving in the early morning, we dumped our stuff at the hotel and hurried to the nearby Studio Mumbai compound. Here we spent the rest of the day workshopping the Pavilion plans using drawings and models. We scribbled and discussed with Bijoy, project architect Mitul Desai, intern Neelanjana Chitrabanu, and Mike Evans and Sudhir Shinde of Arup Mumbai (who are assisting Arup Melbourne with engineering on the project) and the studio's craftsmen and other specialists. Design development at Studio Mumbai appears to be a considered iterative process of trial and error, a teasing out of ideas and the look of things, and turning them into drawings and the built impression of ideas, feelings and intent. It's a bit different to how we have worked before but the collaborative way is fun.
Studio Mumbai is an elegant group of very simple offices and residences built around a central spine and courtyard. As well as our MPavilion group, there are a couple of other project teams working on other Studio Mumbai projects for sites across Europe and India. There were quite a few European architects and interns there, and Indian craftsmen building models of the designs and furniture for new projects, installations and studios. A team was working on Studio Mumbai's Venice Biennale installation. Other businesses operated from the complex and there were a couple of residential units including Bijoy's.
On day two we all went off to Alibag, about half an hour across the bay from Mumbai, on a fast speedboat taxi. We travelled in cars down to a rural property near a small village that Studio Mumbai use for testing their ideas—where they partake in building and prototyping. Here is a quiet research laboratory and workshop in the country, where Studio Mumbai develop and experiment their ideas by working on large models and full-scale and pre-constructed buildings and installations such as their Venice installation and elements of MPavilion. There is a wonderful community feel about the place, with craftsmen, villagers, architects and interns (and a dozen or so dogs, complementing the cats at the Mumbai studio) working pretty hard in the warm sun constructing, pulling-down and reconstructing models and buildings. They make as much as possible themselves with basic and local materials and use traditional methods and techniques. This included a site built mini-kiln for firing mini-bricks correctly sized for scale models of masonry work.
A full size prototype of MPavilion was being constructed on the site by local craftsmen and riggers. It was then dismantled and a developed version was erected then dismantled and, with hand fabricated wall panels, packed into containers and fumigated. It is now on the water, headed to Melbourne.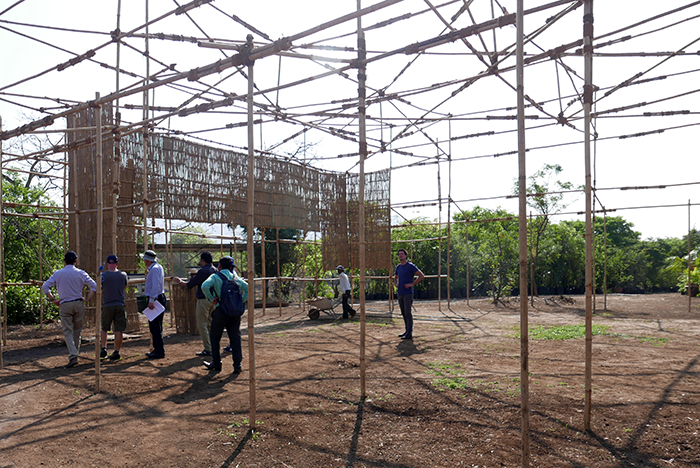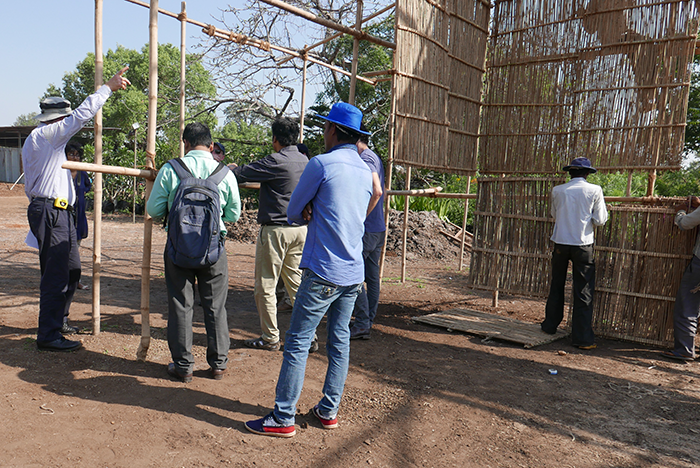 In the last few weeks since then the design has continued to develop extensively, and that first full-scale model was ditched and a new version constructed. Rob Irwin returned to Mumbai in late June to meet with Studio Mumbai and Arup. We are across the new iteration and it's now locked-in, it's packed into containers and on the water.
At Alibag we were joined by Sankalpe, Professor at the Centre of Environment Place and Technology, a principal of Thumb Impressions Collaborative, and a specialist in building technology and traditional building methods. We all returned to Mumbai on a slower and full ferry, in what was a pretty rough trip on the water that our team seemed to cope with better than some of the rather uncomfortable looking young guys.
Our last day in Mumbai was a full day of sightseeing, rushing between and walking around some of the more notable Mumbai sites including: The Dhobi Ghat open air laundry; the Cchatrapati Shivaji Railway Station (formerly Victoria Terminus); Watson's Hotel; Gateway of India; Antilia, the world's largest and most expensive house; Banganga Tank; Tote at the Turf Club; and Dharavi slum of Slumdog Millionaire and Kevin McLeod's Slumming It documentary.
The highlight? Watson's Hotel. I noticed it by chance, and wandered over to have a closer look after dinner on our second night. It's a 19th century cast iron prefabricated British building, and, my god, it is huge, technically extraordinary and looked abandoned. The next day we all went back to the Watson's Hotel and poked around the outside. And then we snuck in, only to discover advocates of the Mumbai high court working out of it—so run down, so hard to believe. It is certainly one of the wonders of the world for prefabricated building fans. We explored it for about half an hour until we were shooed out. Wandering through it was fascinating and totally bizarre.
We continue to develop this year's MPavilion. And this week in Melbourne we commence samples and practice with various traditional renders.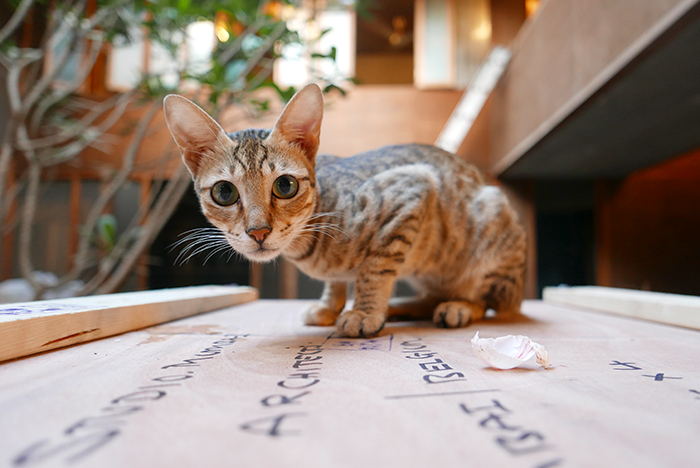 One of many resident cats at Studio Mumbai.