MTalks Balloon's Eye View: Greening Bourj Al Shamali
Thu 19 Jan 2017, 6.15pm–7.15pm
Free!
2017-01-19
2017-01-19
Australia/Melbourne
Balloon's Eye View: Greening Bourj Al Shamali
MPavilion
MPAVILION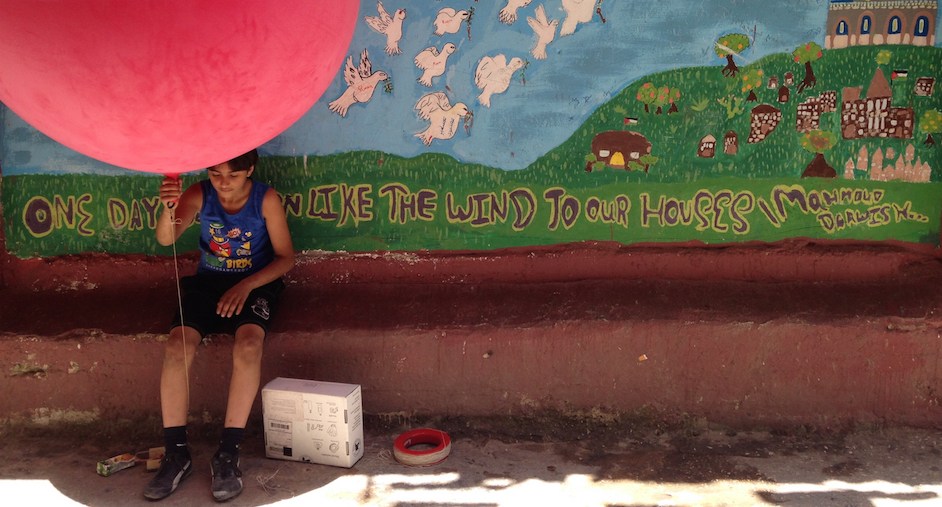 Claudia Martinez Mansell for Greening Bourj al Shamali
The Greening Bourj Al Shamali initiative aims to green and improve the living conditions in Bourj Al Shamali refugee camp in Lebanon, a theoretically temporary Palestinian refugee camp that is now a 60-year-old informal urban environment, densely built and without green spaces. The aim is to create a community garden in the camp, as well as launch an urban agriculture pilot, but before any of this could start, three students – Mustapha Daklhoul, Firas Ismail and Amal Al Said – and the local committee have been engaged in balloon mapping the camp.

Balloon mapping is a form of citizen science; a grassroots aerial photography method that empowers communities to report on environmental and social issues that affect their local area. Why not use a drone? "Our simple answer is that balloon mapping builds better relationships with the inhabitants of the place you are mapping," says Greening Bourj al Shamali co-founder Claudia Martinez Mansell, "You have to be present in the map (as we are in many of our photos!), for you are linked to the balloon by a kind of umbilical cord."

Join Assemble Papers on a Skype call with Claudia Martinez Mansell when she returns to Lebanon in January. Claudia will tell us more about Greening Bourj Al Shamali and the importance of citizen science to the project, including a short video featuring Mustapha and Firas and their recent work in the camp.
This event is made possible by the Hugh D T Williamson Foundation through funding for MPavilion's series of events looking at design & science.