Jen Shyu
Jen Shyu (徐秋雁) is a groundbreaking, multilingual vocalist, composer, producer, multiinstrumentalist, dancer and 2016 Doris Duke Artist. Born in Peoria, Illinois, to Taiwanese and East Timorese immigrant parents, Shyu is widely regarded for her virtuosic singing and riveting stage presence, carving out her own beyond-category space in the art world. She has performed with saxophonist and 2014 MacArthur Fellow Steve Coleman since 2003 and has collaborated with such musical innovators as Anthony Braxton, Vijay Iyer, Bobby Previte, Chris Potter, Michael Formanek and David Binney. Shyu has performed her own music on prestigious world stages such as Carnegie Hall, Lincoln Center, Brooklyn Academy of Music, the Metropolitan Museum of Art, Rubin Museum of Art, Ringling International Arts Festival, Asia Society, Roulette, Blue Note, Bimhuis, Salihara Theater, National Gugak Center, National Theater of Korea and at festivals worldwide.
A Stanford University graduate in opera with classical piano, violin, and ballet training, Shyu has studied traditional music and dance in Cuba, Taiwan, Brazil, China, South Korea, East Timor, and Indonesia, conducting extensive research which culminated in her 2014 stage production Solo Rites: Seven Breaths, directed by renowned Indonesian filmmaker Garin Nugroho. She has won commissions and support from Doris Duke Performing Artist Awards, MAP Fund, Jerome Foundation, Chamber Music America's New Jazz Works, New Music USA, Jazz Gallery and Roulette, as well as fellowships from the Fulbright Scholar Program, Asian Cultural Council, Korean Ministry of Foreign Affairs and Korean Ministry of Sports, Culture and Tourism.
Shyu has produced six albums as a leader, including the first female-led and vocalist-led album Pi Recordings has released, Synastry (Pi 2011), with co-bandleader and bassist Mark Dresser. Her critically acclaimed CD Sounds and Cries of the World (Pi 2015) landed on many best-of-2015 lists, including those of The New York Times and The Nation.
Currently based in New York City, Shyu will premiere her next solo work at National Sawdust June 29, 2017, and release her next album Song of Silver Geese on Pi October 2017, kicking off a 50-state U.S. tour of Songs of Our World Now / Songs Everyone Writes Now (SOWN/SEWN), planting seeds of creativity and threading communities together through art.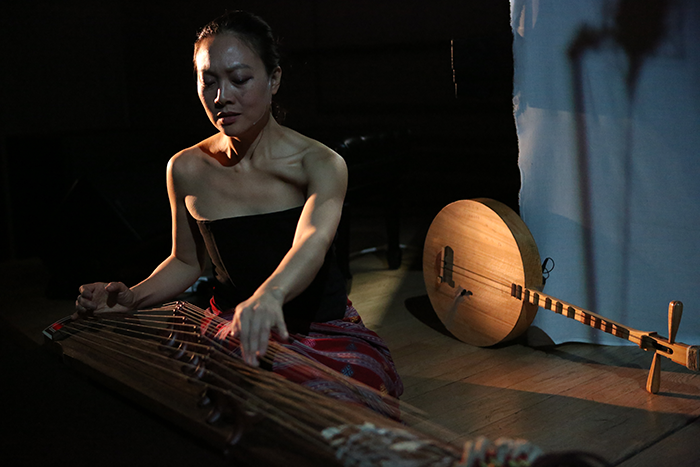 Photo by Steven Schreiber.