MProjects Liquid Architecture presents Anne-James Chaton in residence
Mon 24 Oct – Sat 29 Oct 2016, 10.00am–4.00pm
Free!
2016-10-24 10:00
2016-10-29 16:00
Australia/Melbourne
Liquid Architecture presents Anne-James Chaton in residence
MPavilion
MPAVILION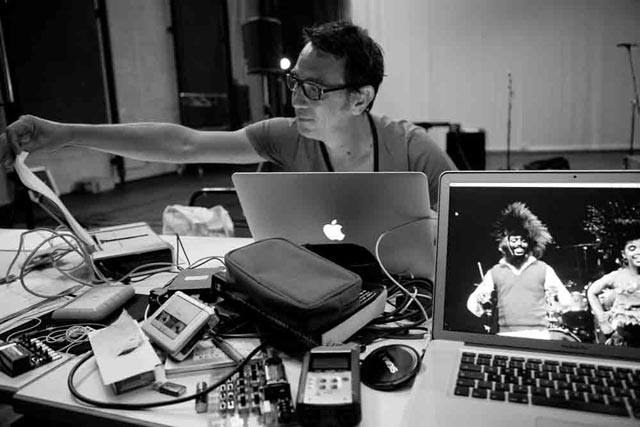 This week, French sound poet, artist and performer Anne-James Chaton will be collecting MPavilion's voices and words (spoken and written) as material for two parallel projects, Témoignages (Testimonies) and Portraits, as well as presenting a special broadcast of RADIO, a work originally broadcast to a live audience over four 24-hour episodes at the Fondation Louis Vuitton. See the full schedule below. 
Sit down with poet and sound artist Anne-James Chaton for a personal encounter in the creation of a new relational and conversational work. The artist will be in-residence all week at MPavilion—in one of MPavilion's first enduring MProjects events—creating a portrait of our city by exploring the sounds of words and the shape of texts with information collated on professional occupations, and languages spoken, by you, the MPavilion audience.
Témoignages (Testimonies) is a translingual sound work built from conversations between the artist and the public – in multiple mother tongues.
Portraits is a visual work extending from meetings between the artist and visitors of different professions. It culminates in the creation of bespoke images representing each meeting. Both works are generated through one-on-one encounters between the public and the artist.
The ultimate culmination of Anne-James's five-day residence creating these works, from Monday 24 to Friday 28 October, is the live performance Testimonies on Saturday 29 October—a work renewing concrete poetry and low literature traditions, and channelling these into sonic experiences.
Liquid Architecture and MPavilion invite public participation on both these projects. Email us at rsvp@liquidarchitecture.org.au with your preferred date, time, spoken language and profession to make an appointment – or just drop in.
__________
Portraits to create (Anne-James is looking for a range of professions not already realised in the list below, this is a list of those he knows looking for to interview for the work, but is by no means a complete list): ambassador, bailiff, baker, banker, bodyguard, broker, bus driver, cashier, cellar man (wine merchant), clerk, controller, delivery man, doctor, farmer, fireman, fisherman, florist, garbage collector, gas station attendant, grocer, hostess, illegal worker, IT officer, locksmith, mayor, minister, model, MP, newsagent, postman, printer, prison warden, prisoner, retail worker, salesman, senator, sex worker, tax inspector, teacher, trainer, TV presenter, waiter, webmaster, window dresser.
Portraits already realised: accountant, an expert in gambling, architect, art director, artist, athlete, barrister, bartender, biologist, bookseller, brigadier, business consultant, butcher, carpenter, chef, choreographer, coffee roaster, conservator, contractor, dentist, deputy prosecutor, designer, director of a crematorium, director of the funeral home, editor, electrician, electrician, employee, engineer, film director, finance manager, fishmonger, florist, gallery owner, graphic designer, guitarist, head of business, housekeeper, insurer astronaut, jeweler, journalist, judge, kindergarten teacher, law professor, Lawyer specialised in associations and foundations rights, legal expert, actress, MD, musician, nurse, paramedic, photographer, plaintiff, plumber, poet, policeman, priest, producer, project manager, projectionist, publicist, script writer, secretary, security officer, singer, social worker, steward, teacher, translator, unemployed, union worker, visual artist.
Languages already recorded for Témoignages: Dutch, Japanese, English, Italian, Catalan, Korean, Spanish, Ethiopian, Persian, Sri Lankan, Ukrainian.
Languages required for Témoignages: all others.
__________
Tuesday 25 October to Friday 28 October
10am–11am–Portraits and Testimonies meetings
12pm–2:30pm: RADIO
3pm–4pm: Portraits and Testimonies meetings
Saturday 29 October
12pm–2pm RADIO
2pm–3pm: Portraits and Testimonies meetings
4pm: Liquid Architecture presents Anne-James Chaton Testimonies live performance