MProjects HYPNAPOD: Suspended cardiophonic snooze pods by the Unconscious Collective
Thu 9 Feb – Tue 14 Feb 2017, 10am–12pm and 2pm–4pm daily
Free!
2017-02-09 00:00
2017-02-14 00:00
Australia/Melbourne
HYPNAPOD: Suspended cardiophonic snooze pods by the Unconscious Collective
MPavilion
MPAVILION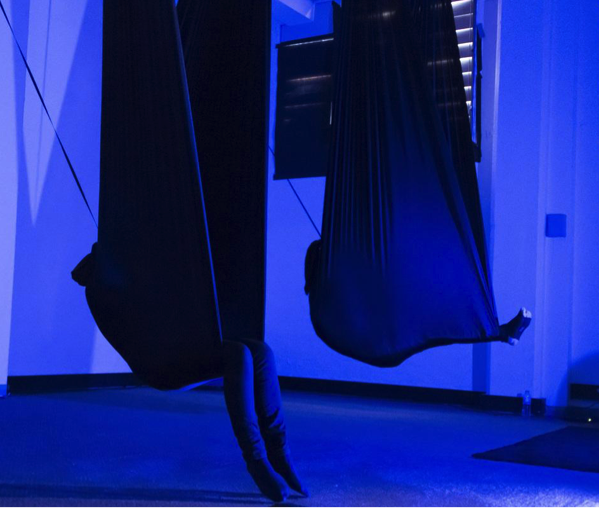 Hypnapods in a trial run. Photo by Jason Jones
That was quick! Pre-booked sessions are now full. It's not too late though, we have kept one HYPNAPOD aside to accomodate anyone who turns up without a booking. Drop by to any session for a spontaneous sync.
We have just opened bookings for an extra block of sessions on the evening of Valentine's day, with a couple of extra-special touches. Get in quick. NB: drop-ins not possible for Valentine's evening sessions. These are extra-special and will be fully pre-booked.
HYPNAPOD is a live, experimental artwork generated by biofeedback from the heartbeats of relaxing – or snoozing – participants. It investigates the somatic connections between people through the phenomenon of entrainment.
You are invited to come to MPavilion and relax into a hanging HYPNAPOD – a suspended, knitted cocoon designed by Unconscious Collective in collaboration with Jenny Underwood at RMIT University's School of Fashion & Textiles. The soft, hanging pods are equipped with sensors and speakers which amplify your heartbeat in real-time. Together the pods produce a unique soundscape, specific to you and the other pod-occupants at that moment, which evolves as your heartbeats go in and out of sync.
To attend, book in a session for a maximum of three people at a time (in three pods) or drop by to check it out.
Come along to MPavilion under the rising full moon of Saturday 11 February for M*Sync – a celebration of collective consciousness with a focus on love as a contemporary ritual featuring the Hypnapod installation, spoken word, dance and live music performances.
This event is made possible by the Hugh D T Williamson Foundation through funding for MPavilion's series of events looking at design & science.
This project has been assisted by the Australian Government through the Australia Council, its arts funding and advisory body.